Genius Education Management System -

School / College & University (ERP)

"A Customizable Solution as per the Needs of the Institution"
Genius Education Management is a market-leading ERP platform for Schools/Colleges/Universities that is user-interactive, flexible, robust, easy to access, diversified and embedded in every generation of devices. It is an educational system to fulfil the daily requirements of all Institutions with the best facilities, features and functions, whether it is large/small. It delivers different roles and functionality to every unique user with diversified perspectives to make it user friendly.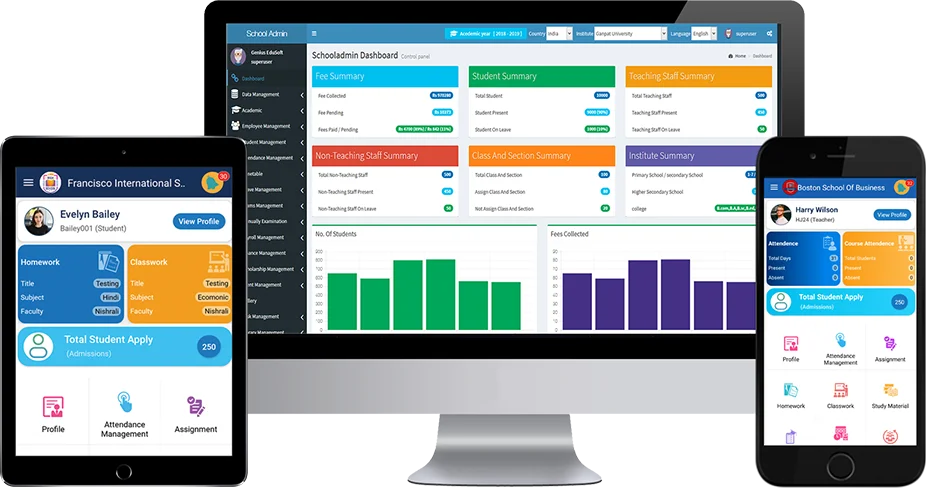 School / College / University (ERP)
Management System
"Enjoy effortless functionality with a variety of cross-platform features and a straightforward yet powerful interface."
Facts and

Figures

"School Management Software: Making life easier for teachers."
INTRODUCTION TO

GENIUS ERP SYSTEM

Streamline your school's administrative processes with our comprehensive SMS.
Genius Education
Management Benefits
"Experience a one-of-a-kind learning adventure through a digital educational platform."
Benefits for Management
Class / Stream wise Fees paid / Pending Status

Reduces 50% Admin and 70% Stationery Cost

Teacher / Student / Non-Teaching Staff - Performance Analysis & MIS Reports

Multi-language, Multi-Institute and Multi-Currency

Instant Update of daily activities of Students / Teachers / Non-Teaching staff

Monitor Attendance Report of Students / Faculty

Online Enrollment for Teachers / Students

Quick Messaging / SMS will help in effective communication through Mobile / Web login
Benefits for Teacher
Manage Class Information

Create Online Exam and Customised Question Paper Generator

Computerized Marksheet, Grades & Certificate

Quality Interaction with Parents / Students

Time Table Creation and Scheduling

Analytical Reports of Students

Upload Classwork, Homework, Assignment, Notes and Syllabus

Online Attendance of Students via Mobile & Web
Benefits for Student / Parent
Student / Parent can see Classwork, Homework & Assignment

Computerized Marks / Grades

TeacherAttendance & Performance Reports

Instant Messaging with Teachers

Generate E-challans, Online fee payment, Fee-receipt & Fee reminder.

Multi-Language

Easy Availability of Notice / Circular

Real-Time Information
Genius Edusoft School Management

Mobile Application Features

School management made easy with our mobile app - stay connected, organized, and informed with just a few taps!
Academic Management
Manage Assignment, Homework, Classwork, Lesson Planning, Syllabus, Notes and Circular.
Employee and Student Attendance / Leave Management
Manage and view attendance with a detailed report and Manage approval and rejection for employee and student leave.
HRM and Payslip
Manage employee salary and generate payslip
Time-table Management
Automated timetable for every single class and divisions.
Online and Manual Exam Management
Manage online exam and result marking.
Fees Management
Check the status of fees outstanding and send reminder.
ID Card / Library Management
Generate and Print ID Card and Manage available books, its issues and returns for ease.
Front Desk Management / Messaging
Share One to One and One to Many SMS and Push Notification.
Transportation Management / Student Tracking
Manage Vehicle, Driver, Route, Destination details, Vehicle tracking and transportation fees and also Teachers can keep eye on their children
Inventory Management / Maintenance
Request for inventory and notification of inventory reminder and Raising a ticket by faculty and student at time of inconvenience.
Virtual Class Room
Conduct online meeting class wise.
Academic Management
Students and Parents can view Assignment, Homework, Classwork, Lesson Planning, Syllabus, Notes and Circular.
Attendance Management
Check student attendance status.
Leave Management
Students can apply for leave.
Time-table Management
Students can check their time-table.
Online Exam and Result
Attend online exam and check result.
Fees Management
Pay online fees and upload challan.
Messaging
Ease of communication with faculty and management.
Library Management
To Manage available books, its issues and returns for ease.
Vehicle / Student Tracking
Parents can be worry free by tracking their children's vehicle status and child activities.
Student Pickup
Scan QR code of ID card to verify student details.
Virtual Classroom
Attend online meeting.
Student Management
Easily store, edit, and update student information, including contact information, emergency contacts, attendance records, parent information, and more.
Exam Management and Grading
Automatically generate digital gradebooks for each class, allowing teachers to track student progress over time and make it easier to assign and submit grades.
Communication tools/Virtual Classroom
Send out notifications and announcements to students and parents, as well as schedule parent-teacher conferences.
Assignments and assessments
Create and manage assignments and assessments, including tracking student progress and providing feedback.
Event management
Easily manage class and school schedules, as well as upcoming events such as field trips and assemblies.
Learning resources/Assign Study Material
Access a library of learning resources, such as lesson plans, videos, and other educational materials.
Classroom collaboration
Enable collaboration between teachers and students within the classroom, including group work and group projects.
Timetable Management
Teachers can schedule timetables for individual classes and sections.
Student Tracking
Teachers can assurance of student's safety by staying informed of student's vehicle status and activities.
An advanced
School Management App

to connect All the stakeholders

Feature-rich application to keep everyone engaged and updated

Advance Mobile App
An easy and efficient way for parents, students, and teachers to access important school information anytime, anywhere.

SMS Gateway Integration
SMS gateway integration provides a reliable and efficient way for the school to send SMS messages to students, employees and parents.

Wireless Attendance
Wireless attendance management system provides real-time attendance tracking and reporting, making it easier for school management to monitor attendance patterns and identify issues.

Payment Gateway Integration
Payment gateway integration allows schools to accept payments from various sources, such as credit/debit cards, net banking, and digital wallets.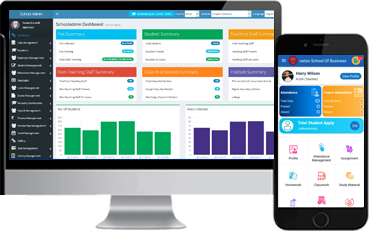 Profile Scan Using QR code
Using QR code in school management software, the profile scan feature allows for quick and easy identification of students, teachers, and staff.

Customization as per the Organization Requirement
Customization options for school management software provide flexibility to adapt to changing organizational needs and requirements.

Question paper Generator and Online Exam
Allows admins/teachers to quickly generate question bank lists for their teaching subjects and upload multiple question papers.

Operations & Data Analysis
Utilizes statistical and computational methods to extract insights and make data-driven decisions that drive educational growth and innovation.
Featured
Clients
"We are proud to work with a fantastic set of clients"