Transport Management plays crucial role in Schools / Colleges / Universities. Admin have all the rights to add different transport vehicles with driver details like Name, Vehicle no, License no and Driver's phone no. It can Assign and Manage different Routes to different Drivers with mentioned Vehicle no. This module will give detailed analyses about Transport Allocation. It uses multiple features to inform the user about the exact vehicle location at any given point of time. The system can be customised according to the students size and accordingly different schedules are made to plan the efficient routes to Pick and drop the students on time. As we use transportation system in the real time environment it gives more effective results.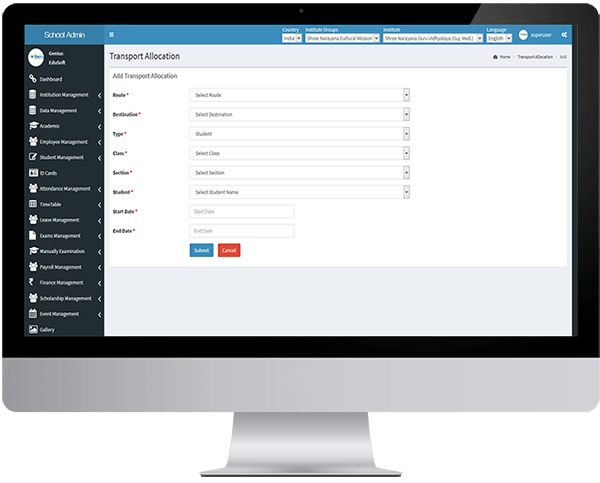 This module includes
the features like :
Vehicle details

Vehicle details
It will display the list of vehicles and vehicle number,maximum seat allocation,insurance renewal date. Teachers / Admin can view the type of vehicle assigned to the students with proper Vehicle number, Contact person, and Insurance renewal date, also they can see all the details of the vehicle which will help them to contact the driver or the institute in case of any emergency.

Driver details
The system is much accomplished in handling various driver's contact number and details. Admin can add new recruited school drivers, the Genius Education management will provide separate form to fill the details of the driver which will include things like : Driver's name, vehicle number, Permanent Address, Date of Birth, Phone number and License number.

Route Details
Parents can see the route that will be pre-defined, so that if there will be any change in the route of Vehicle it will automatically send the push notification to the parents about the Route update. Similarly, students can check his/her daily bus routine from start to stop place, there will be notification from the admin institute if there will be any change in the daily bus route.
Destination
Create and Manage pick up and Drop schedule of the students, Admin can add, change and view the number of destination from pick up point to the drop point. Similarly, Students and parents can view the number of destination from pick up point to the drop point.
Vehicle Allocation :
It will provide the allocation of institute's transport vehicles. Admin can assign the different transportation vehicles according to the student's address and destination to pick and drop the students accordingly. The route and destination will show the vehicle allocation of the different groups of students living in the same area or in the nearby locations. This feature will help the admin in allocating the transportation efficiently.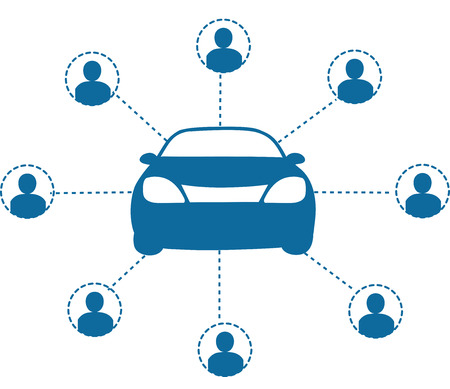 Frequently Asked Questions
Argentina
,
Buenos Aires
,
Mendoza
,
Salta
,
Rosario
,
La Plata
,
Cordoba
,
Bariloche
,
Mar del Plata
,
San Miguel de Tucuman
,
Resistencia
,
Bahia Blanca
,
Posadas
,
Neuquen
,
San Salvador de Jujuy
,
San Juan
,
Puerto Madryn
,
Rio Gallegos
,
Trelew
,
Santa Rosa
,
Santa Fe
,
Tandil
,
San Luis
,
Santiago del Estero
,
La Rioja
,
Formosa
,
Rio Cuarto
,
Comodoro Rivadavia
,
Quilmes
,
Corrientes
,
France
,
Paris
,
Marseille
,
Nice
,
Strasbourg
,
Bordeaux
,
Lille
,
Toulouse
,
Lyon
,
Montpellier
,
Nantes
,
Grenoble
,
Rennes
,
Rouen
,
Reims
,
Orleans
,
Angers
,
Calais
,
Clermont-Ferrand
,
Amiens
,
Ajaccio
,
Saint-Denis
,
Reims
,
Troyes
,
Limoges
,
Caen
,
Metz
,
Grenoble
,
Dunkirk
,
Poitiers
,
Le Havre
,
Roubaix
,
Villeurbanne
,
Avignon
,
Annecy
,
Le Mans
,
Angouleme
,
Creteil
,
Saint-Denis
,
Brest
,
Mulhouse
,
Chartres
,
Quimper
,
Laon
,
Vannes
,
Lorient
,
Chambery
,
Antibes
,
Nancy
,
Lourdes
,
Australia
,
Sydney
,
Melbourne
,
Brisbane
,
Adelaide
,
Perth
,
Canberra
,
Darwin
,
Hobart
,
Gold Coast
,
Cairns
,
Wollongong
,
Townsville
,
Newcastle
,
Alice Springs
,
Bendigo
,
Albury
,
Geelong
,
Ballarat
,
Launceston
,
City of Sydney
,
Bunbury
,
Coffs Harbour
,
Albany
,
Toowoomba
,
Bundaberg
,
Wodonga
,
Rockhampton
,
Wagga Wagga
,
Devonport
,
Mackay
,
Broome
,
Geraldton
,
Kalgoorlie
,
Mildura
,
Queanbeyan
,
Dubbo
,
Bathurst
,
Maitland
,
Gladstone
,
Warrnambool
,
Mandurah
,
Lismore
,
Mount Gambier
,
Port Macquarie
,
Nowra
,
Shepparton
,
Burnie
,
Tamworth
,
Fremantle
,
Tweed Heads
,
Algeria
,
Algiers
,
Oran
,
Annaba
,
Constantine
,
Setif
,
Tlemcen
,
El Oued
,
Ghardaia
,
Tamanrasset
,
Mostaganem
,
Biskra
,
Batna
,
Sidi Bel Abbes
,
Skikda
,
Bab Ezzouar
,
Touggourt
,
Blida
,
Tindouf
,
Bechar
,
Bordj El Kiffan
,
El Eulma
,
Ouargla
,
Saida
,
Es Senia
,
Khemis Miliana
,
Uganda
,
Kampala
,
Thailand
,
Bangkok
,
Chiang Mai
,
Hat Yai
,
Tanzania
,
Dar es Salaam
,
Dodoma
,
Mwanza
,
Mbeya
,
Lushoto District
,
South Korea
,
Seoul
,
Busan
,
Incheon
,
Daegu
,
Daejeon
,
Ulsan
,
Gwangju
,
Changwon
,
Goyang
,
Yongin
,
Singapore
,
Bukit Batok
,
Choa Chu Kang
,
Ang Mo Kio
,
Batam
,
Switzerland
,
Lausanne
,
Zurich
,
Winterthur
,
Philippines
,
Manila
,
Davao
,
Caloocan
,
Lapu-Lapu
,
Paraguay
,
Asuncion
,
San Lorenzo
,
Nigeria
,
Lagos
,
Abuja
,
Benin City
,
Netherlands
,
Amsterdam
,
Rotterdam
,
Ede
,
Mexico City
,
Guadalajara
,
Tijuana
,
Merida
,
Hermosillo
,
Malaysia
,
Kuala Lumpur
,
Johor Bahru
,
Kota Kinabalu
,
Kuching
,
Ipoh
,
George Town
,
Malacca City
,
Petaling Jaya
,
Shah Alam
,
Kuala Terengganu
,
Miri Malaysia
,
Klang
,
Alor Setar
,
Kota Bharu
,
Kuantan
,
Sandakan
,
Seremban
,
Sibu
,
Ampang
,
Sungai Petani
,
Kajang
,
Japan
,
Tokyo
,
Kyoto
,
Osaka
,
Nagoya
,
Fukuoka
,
Yokohama
,
Sapporo
,
Kobe
,
Sendai
,
Hiroshima
,
Nagasaki
,
Nara
,
Kitakyushu
,
Okayama
,
Kagoshima
,
Kumamoto
,
Kanazawa
,
Niigata
,
Hamamatsu
,
Toyama
,
Takamatsu
,
Matsuyama
,
Utsunomiya
,
Kawasaki
,
Chiba
,
Mito
,
Hakodate
,
Kurashiki
,
Wakayama
,
Himeji
,
Morioka
,
Maebashi
,
Matsumoto
,
Sagamihara
,
Sakai
,
Toyohashi
,
Miyazaki
,
United Kingdom
,
UK
,
England
,
London
,
Edinburgh
,
Manchester
,
Glasgow
,
Birmingham
,
Bristol
,
Liverpool
,
Cardiff
,
Oxford
,
Cambridge
,
Coventry
,
Bradford
,
Hong Kong
,
Kowloon
,
Tsuen Wan
,
Yuen Long Kau Hui
,
Guatemala City
,
Ghana
,
Denmark
,
Copenhagen
,
Aarhus
,
Aalborg
,
Roskilde
,
Esbjerg
,
Odense
,
Vejle
,
Kolding
,
Randers
,
Helsingor
,
Frederiksberg
,
Silkeborg
,
Horsens
,
Frederikshavn
,
Naestved
,
Scotland
,
Dundee
,
Aberdeen
,
Inverness
,
Midlothian
,
Greenock
,
Livingston
,
East Kilbride
,
Leith
,
United Arab Emirates
,
UAE
,
Dubai
,
Abu Dhabi
,
Ras al-Khaimah
,
Fujairah
,
Ajman
,
Sharjah
,
Al Ain
,
Bahrain
,
Manama
,
Muharraq
,
Riffa
,
Hamad Town
,
Iran
,
Tehran
,
Isfahan
,
Shiraz
,
Mashhad
,
Tabriz
,
Ahvaz
,
Qom
,
Kermanshah
,
Karaj
,
Iraq
,
Baghdad
,
Mosul
,
Erbil
,
Kirkuk
,
Karbala
,
Nineveh Governorate
,
Najaf
,
Hillah
,
Fallujah
,
Ramadi
,
Al Anbar Governorate
,
Tikrit
,
Samarra
,
Nasiriyah
,
Sulaymaniyah
,
Tal Afar
,
Sinjar
,
Kut
,
Dahuk
,
Saudi Arabia
,
Riyadh
,
Jeddah
,
Medina
,
Mecca
,
Dammam
,
Tabuk
,
Khobar
,
Abha
,
Qatif
,
Buraydah
,
Najran
,
Khamis Mushait
,
Ta'if
,
Yanbu
,
Dhahran
,
Jubail
,
Najran
,
Khamis Mushait
,
Ha'il
,
Jizan
,
Hafar Al-Batin
,
Hofuf
,
Al Bahah
,
Sakakah
,
Arar
,
Al-Kharj
,
Bisha
,
Ras Tanura
,
Unaizah
,
Dawadmi
,
Wadi ad-Dawasir
,
Al Qunfudhah
,
Qatar
,
Doha
,
Al Rayyan
,
Qatar
,
Al Wakrah
,
Dukhan
,
Mesaieed
,
Al Wukair
,
Old Al Ghanim
,
Al Khor
,
Kuwait
,
Kuwait City
,
Salmiya
,
Basra
,
Sabah Al-Salem
,
Hawally, Kuwait
,
Mangaf
,
Mahboula
,
Al Jahra
,
Al-Qurain District
,
Al Farwaniyah
,
Oman
,
Muscat
,
Sohar
,
Seeb
,
Muttrah
,
Modena
,
Bolzano
,
Syracuse
,
Taranto
,
Reggio Emilia
,
Rimini
,
Forli
,
Parma
,
Brescia
,
Reggio Calabria
,
Pescara
,
Salerno
,
Livorno
,
Bergamo
,
Foggia
,
Ferrara
,
Verona
,
Palermo
,
Bari
,
Ravenna
,
Siena
,
Perugia
,
Cagliari
,
Pisa
,
Trieste
,
Catania
,
Padua
,
Lucca
,
Messina
,
Florence
,
Genoa
,
Bologna
,